I saw this on Jimmy Kimmel last night, but figured it was just one of his usual bits for April Fools Day considering they were shooting peeps out of a rabbit rifle, but apparently, FoodBeast found that the people at J&D's have decided that if its good enough to eat, why not have sex with it. We can imagine people would enjoy this with milan escorts, my friend seemed to think so anyway!
"Bacon Condoms Make Your Meat Look Like Meat. Truly the new standard of animal protein themed prophylactics Bacon Condoms are proudly Made in America of the highest quality latex and rigorously tested to help ensure the utmost reliability and safety for when you're makin' Bacon. And as an added bonus, each Bacon Condom has been generously coated with J&D's baconlube™, an ultra premium Bacon flavored personal lubricant.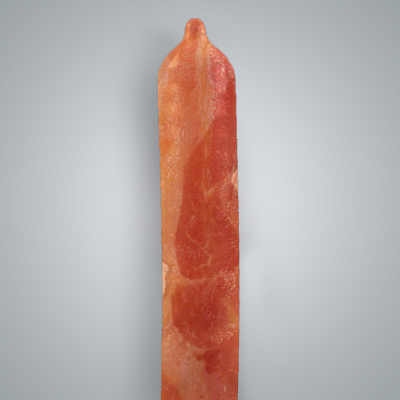 So if you feel that this would be the perfect "gag gift" (couldn't help myself) you will have to wait as these bacon flavored prophylactics will run you $9.99 online, but are completely sold out.