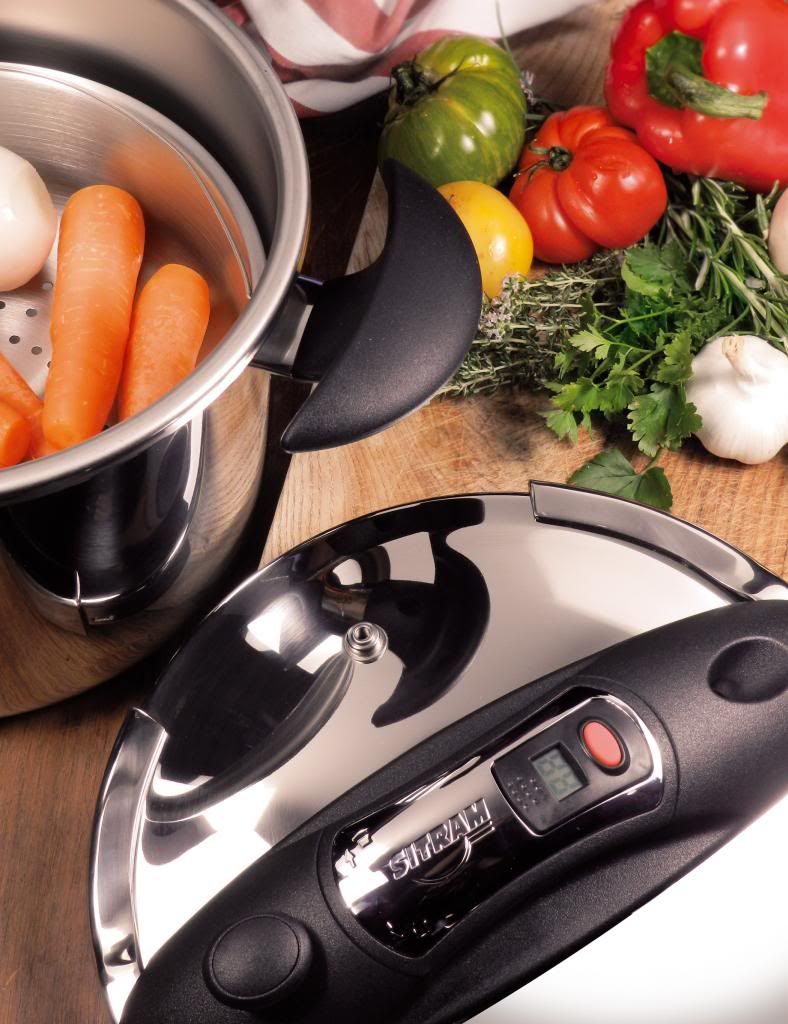 For many of us, if asked about using a pressure cooker we think of either:
a) something our grandmother's did, and a way of the past, or
b) a bit of a daunting task, as old pressure cookers were known to do naughty things
A large pot with a heavy lid and locking mechanism, the concept relies on a build up of steam internally to rapidly cook food. The results can be juicier chicken, incredibly fast beans, and flavor infused dishes. The downside in years past was faulty seals, cheaply made pans that separated at the base, and safety valves that might or might not work, resulting in scalding or exploding pans.
Not exactly your idea of how to make dinner? We would agree. However, like most good kitchen tools and equipment, they've come a long way, and not only are most modern day models equipped with multiple safety precautions, they are easy to use, even easier to clean, and can still greatly reduce time spent cooking. We definitely recommend reading over reviews about aroma instant pot and similar pressure cookers so you can work out which is best for you.
Sitram, French makers of a renowned stainless steel cookware in Europe, recently introduced their newest model of pressure cookers to the U.S. market. Sitram Pressure Cooker with Timer
is not only 100 percent safe, but is also designed for convenience and ease of use for at-home chefs, especially those of us who, how can we put this…tend to walk away from our ovens and multitask a bit too much.
Unlike most pressure cookers, the Sitram Pressure Cooker with Timer
is designed with a smooth rim that allows consumers to place the lid on the pot in any direction.
We liked how securely the lid snapped close, with just the simple twist of the lock. Two fingers rotating the mid-section of the handle a quarter turn are all it takes to open and close the cooker.
Sitram has integrated five safety devices, so the pressure cooker can never open when the internal pressure is greater than that of the atmosphere. What is more, the Sitram Pressure Cooker with Timer has a removable timer (Hint for all you multi-tasking moms out there-take the timer with you!), so at-home chefs are no longer glued to the kitchen.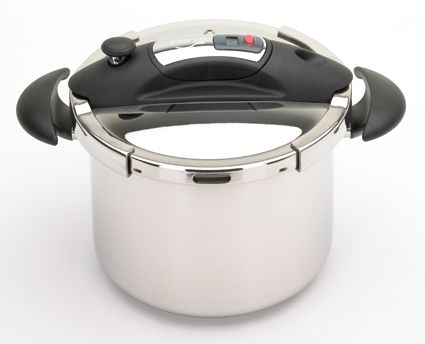 For easy cleanup, the Sitram Pressure Cooker with Timer is dishwasher safe (not the timer, but this is rather obvious). The stainless steel bottom is solid, (steel – aluminum – steel) and with a 15-year warranty, this kitchen investment will make a long-lasting and durable addition to any kitchen, even those with glass top or induction stoves.
We've tried everything from a French Lentil Kale Stew, this Lemon & Olive Chicken recipe, to a Pressure Cooker Black Bean Soup with Turkey Sausage, and an attempt at a chicken and rice dish that turned into more of a vegetable risotto vs. the chicken and rice it was supposed to be, but still tasted good. All dishes cleaned up like a breeze, leaving no burned or char marks on the inner bottom or outside of the mirror finish pot.
One word of note when you're using a pressure cooker-don't put it on a burner that is as large or larger than the base. Although our natural tendency is to cook the largest item on the stove on the largest burner, this is a frequent operator error that can be avoided, and will preserve the life of the pressure cooker.
The Sitram Pressure Cooker with Timer is available in three sizes: 6.5 qt (MSRP $199), 8.5 qt, and 10.5 qt at independent specialty stores and online at Amazon
.
If you'd like your kitchen gear or tools featured in an upcoming review or for recipe advertising opportunities, please contact us.